Trim Your Pet's Hair Easier Than Ever!
1x Premium Pet Hair Clipper
4x Clipper Guards
If you have any questions regarding setting it up, we'll be there to guide you every step of the way.

For questions and problems, you can always get in touch with our support desk by emailing us at support@aspiremerch.com
Keeping Your Pet Safe During The Summer Months Is A Must!

Besides Not leaving Them In A Hot Car;
Trimming Their Hair Is The Best Solution To Keep Them From Overheating!
PremiumClip Is Here To Save the Day!
With PremiumClip You No Longer Need To Spend A Lot At The Vet To Get Your Pet's Hair Trimmed!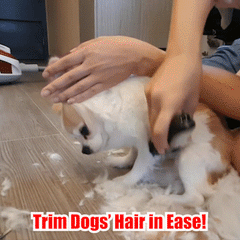 It's Low Noise - Your Pet Won't Be Frightened

It Helps You Save Hundreds On Haircuts For Your Pet

Ultra Safe And Effective

It's Perfect For Cats and Dogs Alike

Lightweight & Cordless

Easy To Use

Precision Cutting Settings